May 4, 2018
Join Us Saturday for Our Kids Fun Fair!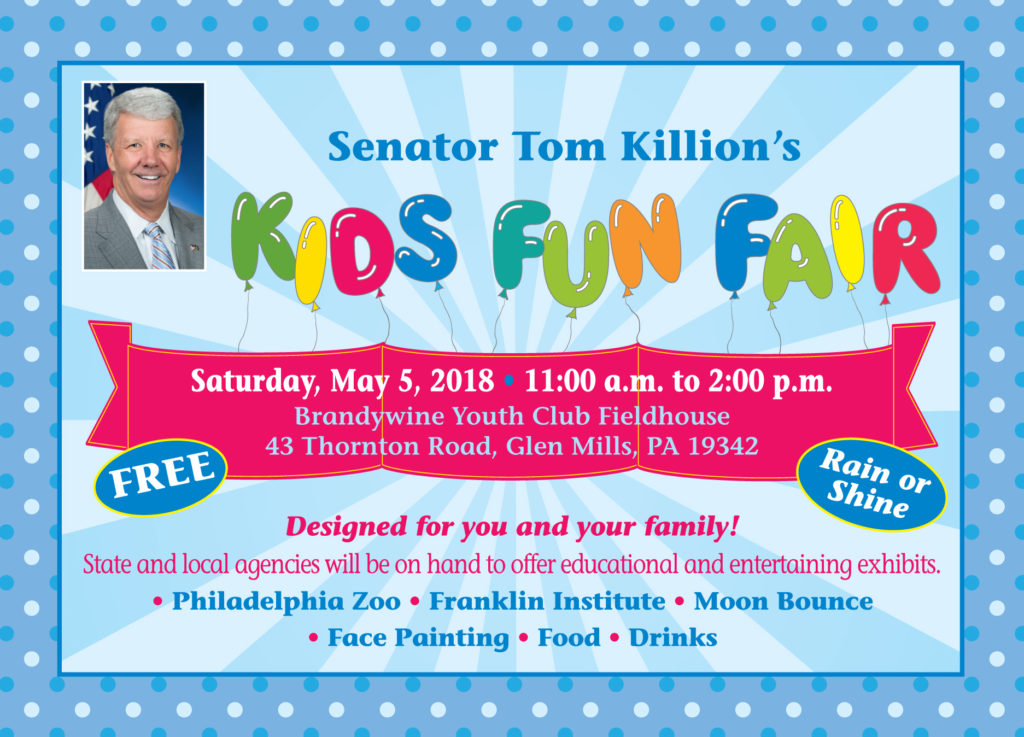 A Severance Tax Will Benefit All Pennsylvanians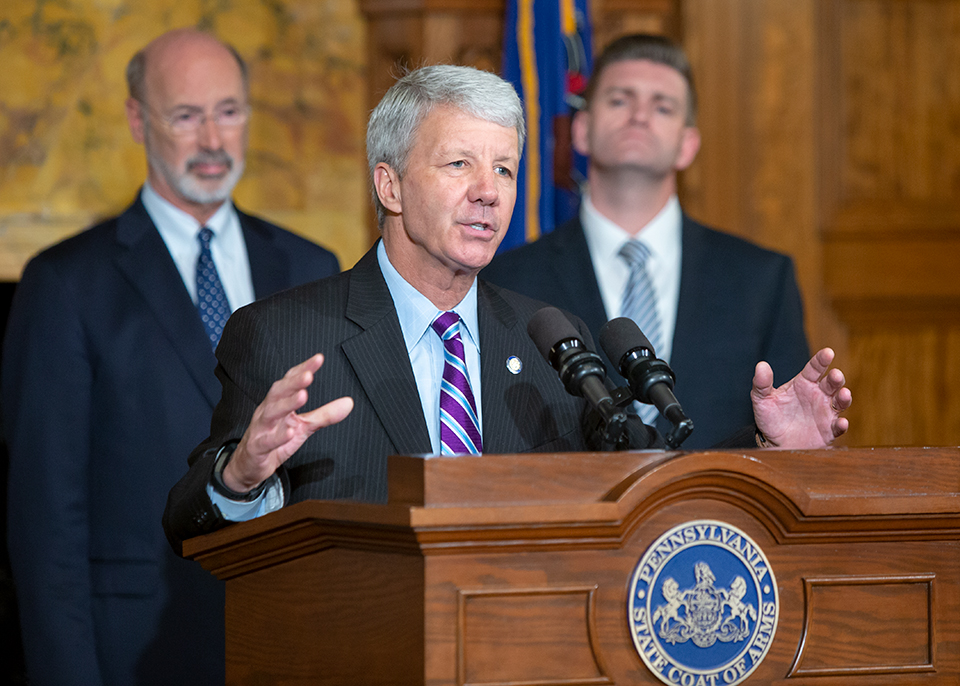 Pennsylvania is the only major gas producing state that does not tax natural gas extraction. This week, I joined Governor Wolf in Harrisburg as he called for a reasonable severance tax on drilling.
I am co-sponsoring Senate Bill 1000, legislation which will enact the Governor's severance tax proposal.
Senate Bill 1000 will implement a severance tax based on price and production factors with an effective rate of 4%, keeping Pennsylvania competitive with other gas producing states. This severance tax will generate $248 million in the first year alone and billions of dollars for our citizens over the next several years.
It is important to note that 80% of the natural gas produced in Pennsylvania is purchased by out-of-state customers, meaning 80% of this severance tax will be paid by non-Pennsylvanians.
A severance tax will fund our schools, build roads, pay for public transportation and help our families in many other ways. Sadly, Pennsylvania has already lost billions of dollars by not having a severance tax in place.
I am pleased to join legislators from both political parties in supporting Governor Wolf's severance tax proposal. It is time for all Pennsylvanians to benefit from the natural gas that is drilled in our state.
Rally to End Domestic Violence
I was honored to speak this week in Harrisburg with the PA Coalition Against Rape and the PA Coalition Against Domestic Violence about my legislation to keep guns out of the hands of abusers. Senate Bill 501 passed the Senate unanimously and now awaits action in the House. This bill will save lives.
May is Lupus Awareness Month in Pennsylvania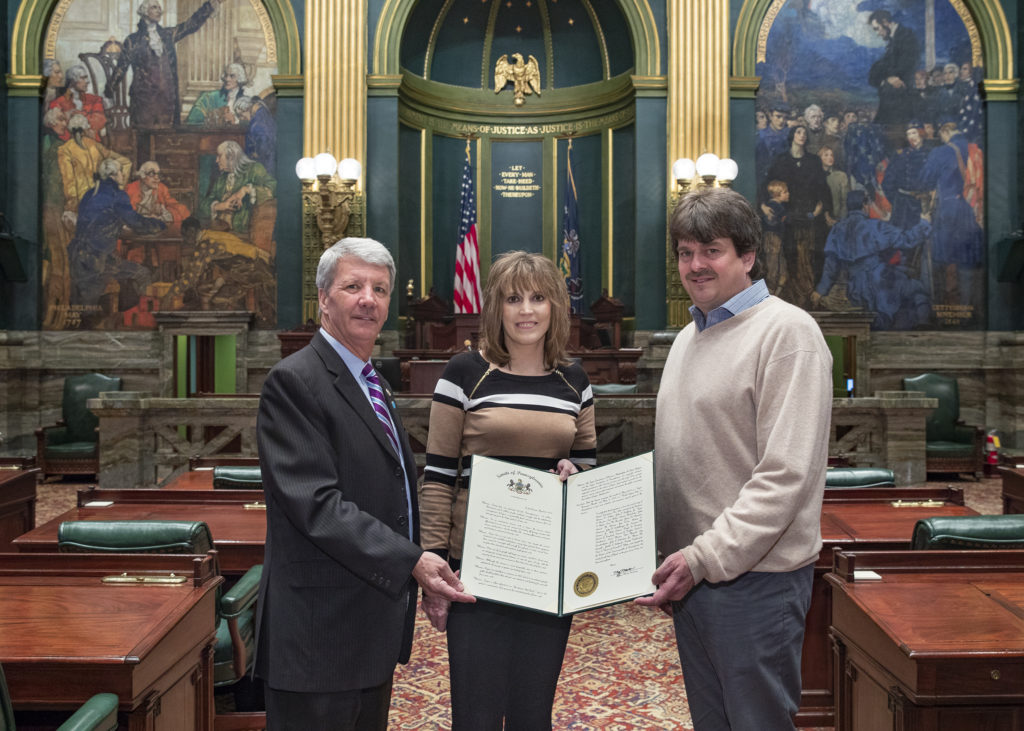 May is Lupus Awareness Month in Pennsylvania. I recently met with Dawn and George Kelly, who reside in my district, and they explained to me what living with lupus is like. They both work to raise awareness of this systematic autoimmune disease, which attacks the body's tissues and organs. Inflammation caused by lupus can affect many different body systems, including a person's joints, skin, kidneys, blood cells, brain, heart and lungs. Thank you to Dawn and George for working on behalf of those impacted by lupus.
Guest Lecturer at Garnet Valley High School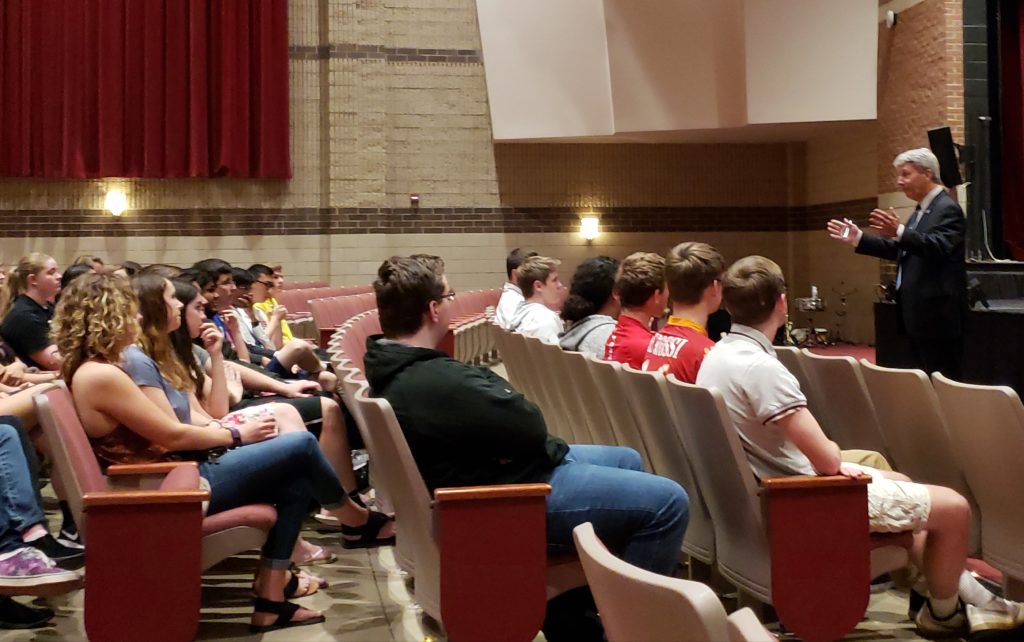 This week, I was invited to speak to a group of seniors at Garnet Valley High School. I had an engaging conversation with the students regarding current issues, how legislation is created and an update on bills I am sponsoring as a Senator.
Helping Businesses Grow
I recently voted in favor of Senate Bill 1056, legislation that would amend the Tax Reform Code by further defining taxable income as it relates to the corporate net income tax (CNIT) and with regard to the amount of the deduction for depreciation of property in determining taxable income.
Last month, I had met with several representatives of CompetePA, a statewide coalition of over 130 members – including nearly all of the statewide and regional business groups, small businesses and Fortune 500 companies. Members of the coalition located in the 9th Senatorial District include Kimberly-Clark, Braskem America and the Delaware County Chamber of Commerce.
Capital cost recovery is extremely important to manufacturers such as Kimberly-Clark and I was grateful to support them and their 600 employees.
The Revenue Bulletin does not allow a business to take a deduction on their qualified property 100% expensed under new federal law until that property is disposed of or sold, which may never occur. While other states, including Pennsylvania, have decoupled from federal bonus depreciation provisions before, no state has ever denied a depreciation expense until such time as an asset is disposed of or sold.
Senate Bill 1056 resolves the issue articulated in the Revenue Bulletin, and incentivizes capital investment by allowing depreciation ratably over the useful life of the asset, but would not incentivize capital investment as much as federal tax reform does by still disallowing 100% bonus depreciation. The legislative fix is fair, equitable, fiscally responsible, and overall good for Pennsylvania.
The bill now goes to the House of Representatives for consideration.
Assistance for Veterans Available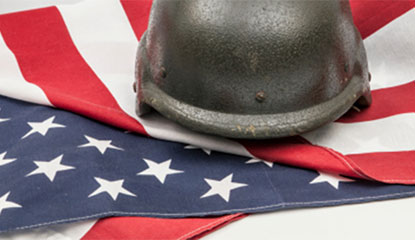 My partnership with the Pennsylvania American Legion to assist veterans at my Brookhaven office, located at 4110 Edgmont Avenue is officially underway. A representative from this organization will be at my office on Wednesday, May 23rd from 10 a.m. to 2 p.m.
I would like to encourage veterans and their families who have questions about benefits and programs to schedule an appointment for these assistance hours. Appointments can be made by contacting the office at (610) 447 – 3163. This service will be offered the fourth Wednesday of each month.
Keystone Scholars Launch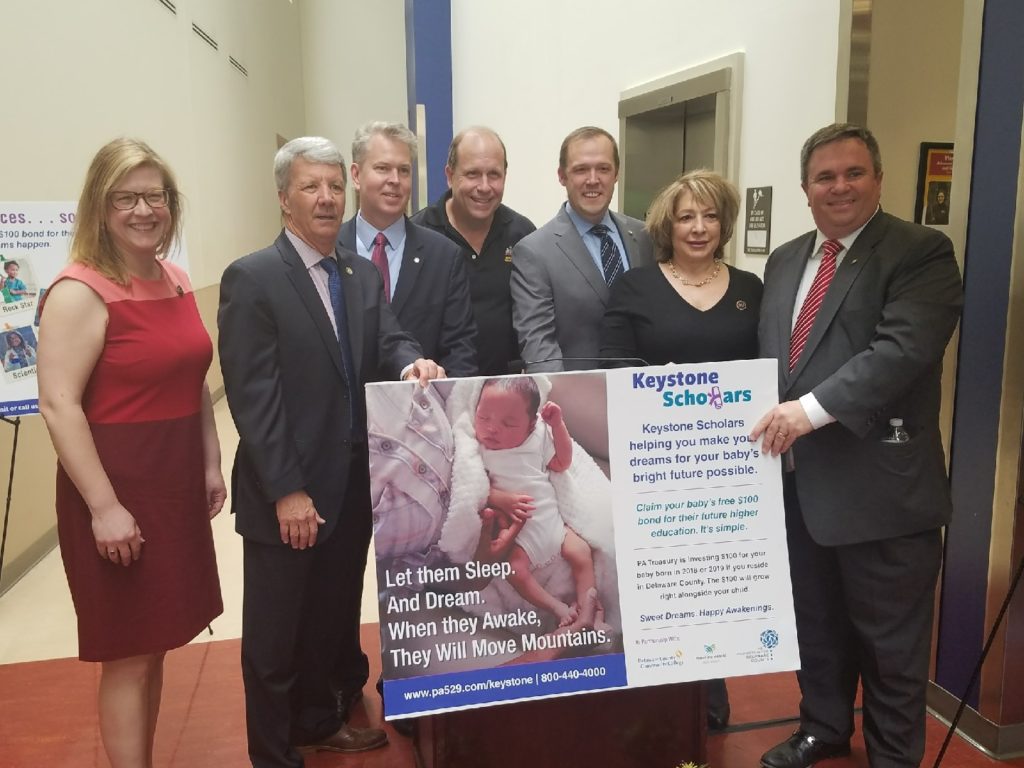 This week I attended the launch of the Keystone Scholars Program in Delaware County.
The Pennsylvania Treasury is investing $100 for every baby born or adopted in 2018 and 2019 to families who live in the demonstration project counties (Delaware, Luzerne, Elk, Mifflin, Indiana and Westmoreland Counties) to use for the baby's future higher education expenses.
You must claim before the baby's first birthday. Pre-register at www.pa529.com/keystone.
I am a co-sponsor of legislation that would broaden the program. Senate Bill 1130 and House Bill 2248 would make the program available in all 67 counties. Both bills are currently pending review by the Legislature.
Always Here to Help
My offices provide many services to families in our area. Here are some of the ways we can help.
Unemployment compensation issues
SEPTA Key Senior Photo IDs
Free notary service
Pennsylvania birth certificates
PennDOT assistance with drivers licensing questions
Information on financial assistance for higher education
Assistance with preparation of Property Tax/Rent Rebate applications
Citations from the Pennsylvania Senate for notable local accomplishments and milestones
Assistance with PA insurance programs: Medical Assistance and CHIP
Fishing and hunting information
Pennsylvania personal income tax forms
Pennsylvania road maps
Requests for copies of legislation, bills and regulations
Requests for literature for students and senior citizens
Tours of the State Capitol for individuals or groups
Assistance with state agency issues