A Bipartisan Call for Gun Safety by Local Legislators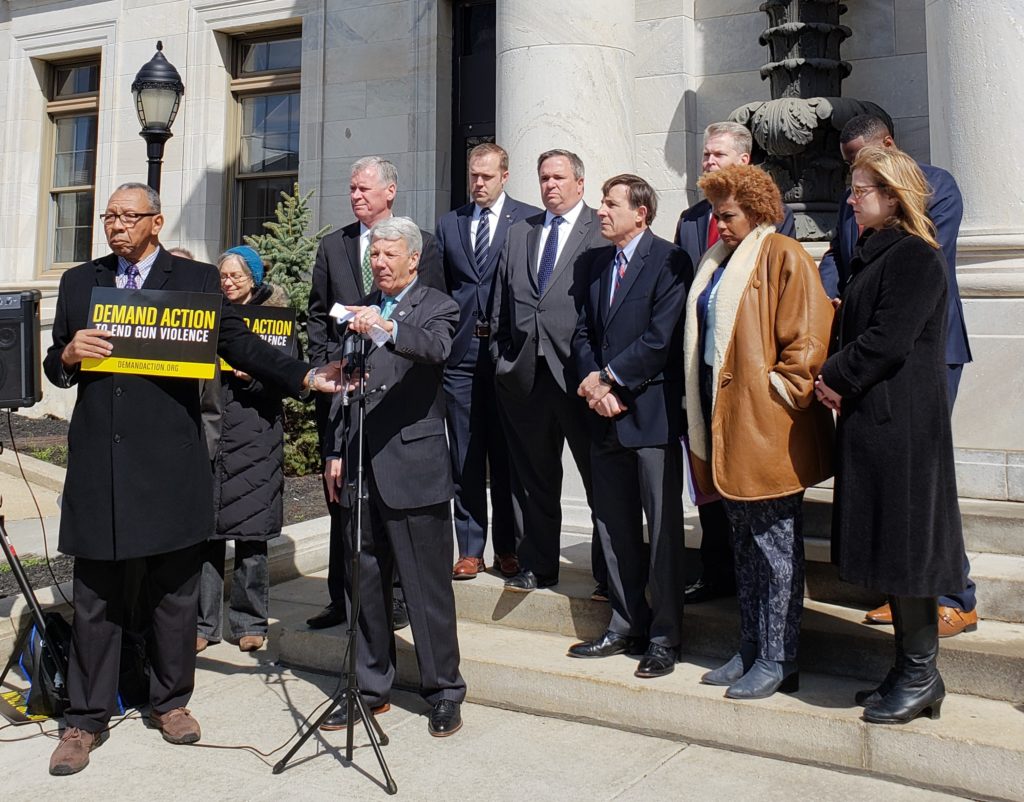 This week I attended an event in Media hosted by Delaware County United for Sensible Gun Policy, where a group of Republican and Democratic legislators spoke about important gun safety initiatives in Harrisburg.
Three key legislative proposals were highlighted at the event: universal background checks for the sale of guns, a ban on bump stocks and similar multiburst trigger activators on firearms and my domestic violence bill that will take guns out of the hands of abusers.
In an incredible show of bipartisanship, these legislative initiatives have the support of all the state House and Senate members from both political parties representing Delaware County.
As for the legislation discussed at the event, I am a co-sponsor of Senate Bill 209, which substantially enhances the state's background check system by closing existing loopholes.
I am also a co-sponsor of Senate Bill 1030. This legislation bans the sale of dangerous rapid fire devices that increase the shooting speed of guns, such as the bump stock mechanism used in the horrific Las Vegas massacre last October that killed nearly 60 people and injured over 500 others.
In addition, I am the prime sponsor of Senate Bill 501. This bill requires the relinquishment of guns within 48 hours by those individuals convicted of a misdemeanor crime of domestic violence and within 24 hours for those who are the subject of a Protection From Abuse order.
Senate Bill 501 also bans Pennsylvania's unsafe practice of allowing family and friends living outside of abusers' households to store their guns after relinquishment, making it impossible for the abusers to retrieve their weapons and commit further acts of violence. This bill passed the Senate last month by a vote of 50-0 and now awaits action in the House.
I am hopeful that Republicans and Democrats will work together on ending gun violence in our state. This legislation will help save lives.
Attention Delaware County Dog Owners: April Dog License Canvassing Schedule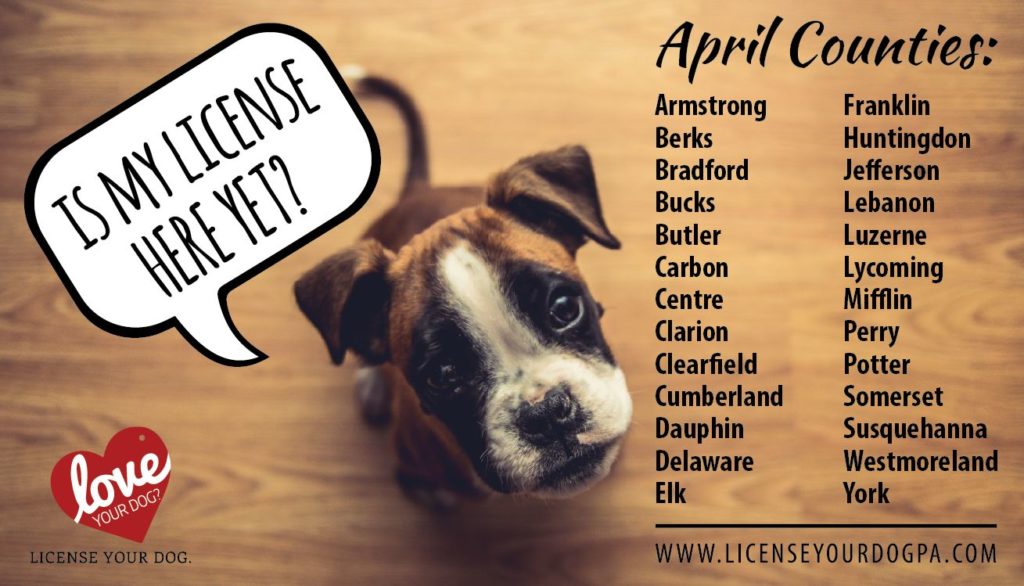 Beginning this month, state dog wardens will be in neighborhoods across Pennsylvania conducting license and rabies compliance checks. All dogs, three months and older, must be licensed by January 1st of each year. Additionally, all dogs and non-feral cats must be vaccinated against rabies.
In addition to helping lost dogs find a way home, funding from the purchase of dog licenses allows the Bureau of Dog Law Enforcement to protect dogs in kennels, crack down on illegal kennels, keep track of dangerous dogs and investigate dog bites.
Compliance checks will be conducted in Delaware County throughout April.
Assistance for Veterans Available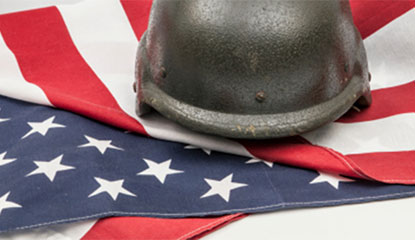 My partnership with the Pennsylvania American Legion to assist veterans at my Brookhaven office, located at 4110 Edgmont Avenue is officially underway. A representative from this organization will be at my office on Wednesday, April 25th from 10 a.m. to 2 p.m.
I would like to encourage veterans and their families who have questions about benefits and programs to schedule an appointment for these assistance hours. Appointments can be made by contacting the office at (610) 447 – 3163. This service will be offered the fourth Wednesday of each month.
Mobile Vietnam Veterans Memorial Wall to Visit Harrisburg
Honoring the sacrifice and memory of fallen U.S. Vietnam Veterans, a mobile replica of the Vietnam Veterans Memorial Wall will be on exhibit outside the Capitol Complex in Harrisburg from 7 p.m. Wednesday, May 9th through Sunday, May 13th at 2 p.m.
"The Wall That Heals," first unveiled in 1996, is a half-scale replica of the original Memorial Wall dedicated in 1982 on the East Mall in Washington, D.C. The transport vehicle transforms into a Mobile Education Center, featuring a chronology of the Vietnam War, a map, letters and memorabilia.
If you are unable to visit the PA Capitol in Harrisburg, you may wish to visit the traveling exhibit in Brockway, PA from June 28th through July 1st or head to McKeesport, PA for the exhibition to be held between August 0th and August 12th, before it moves on to other states.
Save the Date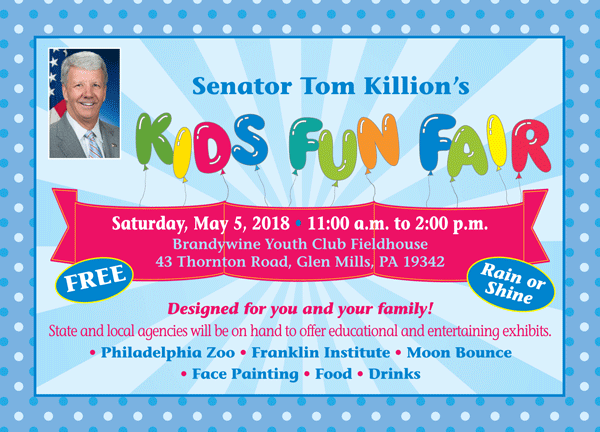 ---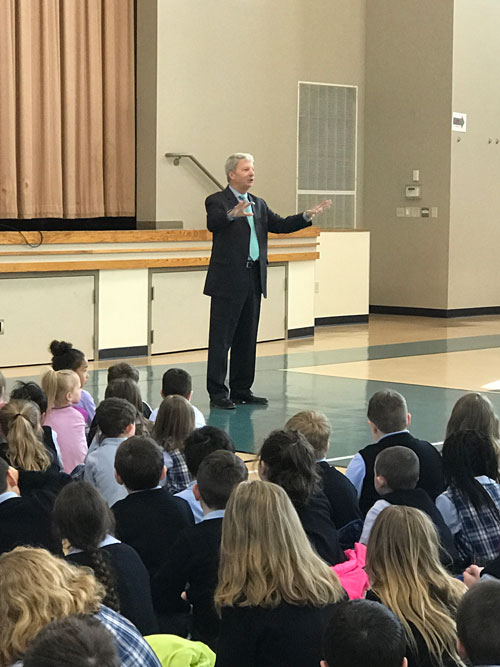 I had the pleasure of speaking to students at Holy Family Regional Catholic School in Aston Township this week. I toured the school and saw firsthand the benefits of the Educational Improvement Tax Credit (EITC) program.
Plan Your PA Vacation Now
Start planning your Pennsylvania vacation with the online version of the 2018 Happy Traveler Guide published by VisitPA, the Commonwealth's Tourism Office. My office can also provide a printed copy of the guide.
Use either version to locate venues offering history, urban experiences, outdoor adventures, festivals and special events. Choose a road trip from among PA's eleven tourism regions for great food and fun. The guide is filled with coupons as well.
How I Can Help
My offices provide many services to families in our area. Here are some of the ways we can help.
Free notary service
Pennsylvania birth certificates
SEPTA Key Senior Photo IDs
PennDOT assistance with driver's licenses and forms
Information on financial assistance for higher education
Assistance with preparation of Property Tax/Rent Rebate applications
Citations from the Pennsylvania Senate for notable local accomplishments and family milestones
Assistance with PA insurance programs: Medical Assistance and CHIP
Fishing and hunting information
Pennsylvania personal income tax forms
Pennsylvania road maps
Requests for copies of legislation, bills and regulations
Requests for literature for students and senior citizens
Tours of the State Capitol for individuals or groups
Unemployment compensation issues
Assistance with state agency related issues
How to Contact Me
Please visit my website at www.SenatorKillion.com.
I have staffed two offices in the district to provide you with top-notch constituent service and provide answers to legislative inquiries. Both offices are open Monday through Friday from 9 a.m. to 4:30 p.m.  Locations are noted below.
If you are having any problems with state agencies or need help with an issue relating to government, my staff and I will be happy to assist you.