Tierne's Law
This week, the House of Representatives unanimously approved Senate Bill 449, legislation known as Tierne's Law, clarifying existing law that allows judges to use risk assessment tools when setting bail in domestic violence cases.
I am a co-sponsor of and I support Senate Bill 449, which was introduced by Senator Bartolotta and named in honor of Tierne Ewing, a resident of Washington County who was kidnapped and later murdered by her estranged husband in August 2016. The killer had been arrested a few weeks prior to the kidnapping for domestic violence and other offenses, but was granted bail in spite of the prosecutor's request for bail to be raised or revoked.
I believe that this bill, which is part of a package of Protection From Abuse (PFA) reform bills that I have co-sponsored and one of which I prime-sponsored, will prove to be effective in ending dangerous circumstances for victims.
Because the House amended Senate Bill 449, it will now come back to the Senate for concurrence in House amendments. If approved by the Senate in its current form, the bill would be sent to the Governor.
Social Workers, Marriage and Family Therapists and Professional Counselors Act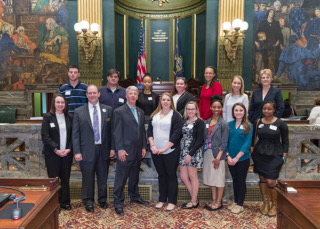 On Wednesday, March 14, the House Professional Licensure Committee unanimously approved my Senate Bill 530, which would amend Act 39 of 1987, known as the Social Workers, Marriage and Family Therapists and Professional Counselors Act, to provide for the independent practice of clinical social work, marriage and family therapy and professional counseling in the Commonwealth.
I introduced this bill last year on behalf of a number of licensed social workers I had heard from in support who reside or practice in the 9th Senatorial District; as well as students of social work representing Widener University and West Chester University, who were present for the unanimous vote in favor of the bill in the Senate Consumer Protection & Professional Licensure Committee last April. Senate Bill 530 remains a priority issue for the National Association of Social Workers (NASW) PA Chapter as is reflected on their website.
Senate Bill 530 passed the Senate by a vote of 46-3 last October. The bill is now before the full House for consideration.
Warning for Consumers About Fake IRS Calls and Scams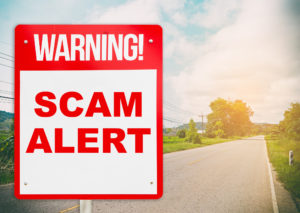 As tax season is upon us, I am warning consumers about fraudulent calls and scams from criminals impersonating IRS agents – and telling recipients they need to send money right away or risk arrest by the IRS.
One recent victim of the IRS scam is Michelle Albitz, of Barto, Berks County. Albitz said someone called, said he was from the IRS, that she owed thousands of dollars in back taxes – and that agents were waiting outside her home to arrest her if she did not pay her "tax debt" immediately. Albitz withdrew more than $10,000 from her bank, and as instructed by the thieves, went to retail stores, purchased gifts cards – and read the gift card information over the phone to the scam artists.
"I was petrified when someone called me, saying they were from the IRS and demanded money or else I would go to jail," Albitz said. "They scammed me out of more than $10,000. I learned not to answer the phone, unless I recognize the number."
The Bureau of Consumer Protection offers a series of tips for consumers to help avoid being scammed:
The IRS does not use threatening or aggressive calls. A scammer may threaten to involve the police, immigration officers or other law enforcement if you do not pay promptly. The IRS will not do that.
The IRS does not initiate contact with taxpayers by email, text or social media, especially contact seeking personal financial information.
Do not trust the number you see on your called ID, even if it appears to be coming from the IRS. Scam artists increasingly use a technique known as spoofing to trick caller ID into thinking the call is originating from a certain phone number.
Do not give out personal information over the phone. Do not provide information over the phone, even if the caller claims to be from the IRS or your bank.
The IRS does not require taxpayers to use a specific method of payment such as a pre-paid debit card, money order, wire transfer, gift cards or cash.
The Bureau of Consumer Protection recommends an acronym to evaluate unsolicited phone calls or emails:
S: Sudden – The call or email is unexpected;
C: Contact – Scammers will contact you by phone, email or in-person;
A: Act Now – The request will be urgent and assert penalties if you do not act quickly;
M: Money or Information – The scammer will request money or personal information.
Pennsylvania consumers who feel they have been victimized by the IRS or other scams should file a complaint with the Office of Attorney General's Bureau of Consumer Protection by calling 1-800-441-2555 or emailing scams@attorneygeneral.gov.
Assistance for Veterans Available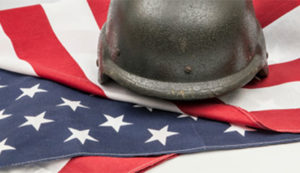 My partnership with the Pennsylvania American Legion to assist veterans at my Brookhaven office, located at 4110 Edgmont Avenue is officially underway. A representative from this organization will be at my office on Wednesday, March 28, 2018 from 10 a.m. to 2 p.m.
I would like to encourage veterans and their families who have questions about benefits and programs to schedule an appointment for these assistance hours. Appointments can be made by contacting the office at (610) 447 – 3163. This service will be offered the fourth Wednesday of each month.
Update Your Do Not Call Registration
Last week an incorrect link was provided to complete the enrollment process for unwanted telemarking calls. To be added to the list that Pennsylvania updates on a quarterly basis, please click here.
How I Can Help
My offices provide many services to families in our area. Here are some of the ways we can help.
Free notary service
Pennsylvania birth certificates
SEPTA Key Senior Photo IDs
PennDOT assistance with driver's licenses and forms
Information on financial assistance for higher education
Assistance with preparation of Property Tax/Rent Rebate applications
Citations from the Pennsylvania Senate for notable local accomplishments and family milestones
Assistance with PA insurance programs: Medical Assistance and CHIP
Fishing and hunting information
Pennsylvania personal income tax forms
Pennsylvania road maps
Requests for copies of legislation, bills and regulations
Requests for literature for students and senior citizens
Tours of the State Capitol for individuals or groups
Unemployment compensation issues
Assistance with state agency related issues
How to Contact Me
Please visit my website at www.SenatorKillion.com.
I have staffed two offices in the district to provide you with top-notch constituent service and provide answers to legislative inquiries. Both offices are open Monday through Friday from 9 a.m. to 4:30 p.m.  Locations are noted below.
If you are having any problems with state agencies or need help with an issue relating to government, my staff and I will be happy to assist you.