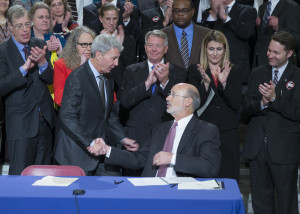 (HARRISBURG, PA) Senator Tom Killion (R-Delaware) joined Governor Tom Wolf today at a ceremony at the State Capitol in Harrisburg to sign into law legislation aimed at addressing the state's heroin and opioid crisis.
View Ceremony Here
Governor Wolf signed a number of bills, including Senate Bill 1368, which Killion sponsored to require the creation and implementation of a safe opioid prescribing curriculum for medical training facilities.
The legislation follows several legislative hearings on the issue over the past two years, as well as a joint address by Gov. Wolf to the General Assembly this fall.
Senate Bill 1368 calls for a medical training facility to implement key opioid-related curriculum. The curriculum would establish further education in pain management; multimodal treatments for chronic pain that minimize the use of a controlled substance containing an opioid; instruction on safe methods of prescribing a controlled substance containing an opioid that follows guideline-based care; identification of patients who have been identified as at-risk for developing problems with prescription opioids; and teaching medical students how to manage substance abuse disorders as a chronic disease.
"I am pleased that the governor and the legislature have recognized the serious impact of opioid abuse in communities throughout this state and are working to find solutions to this public health crisis," Killion said. "Today marks a pivotal first step, but I anticipate that we will see further legislative action in the near future to provide our communities the resources they need to fight addiction."
Other related bills signed into law include:
Senate Bill 1367 limits the issuance of opioids to minors and providing for further restrictions and requirements if opioids are prescribed to minors.
Senate Bill 1202 provides for continuing education requirements in pain management, for prescribing opioids as well as addiction treatment. The bill further would require physicians to check the state's newly created Prescription Drug Monitoring Program Database (PDMP) each time a patient is dispensed an opioid drug product or a benzodiazepine, and requires prescribers and dispensers to input the data in the database within 24 hours.
House Bill 1699 limits the prescribed amount of opioids to a 7-day supply in emergency rooms and urgent care centers.
House Bill 1737 provides for the destruction of household prescription drugs and pharmaceutical waste.
CONTACT: Office of Sen. Killion: Krista Hair (717) 787-4712