During remarks on the floor of the State Senate, Senator Tom Killion (R- 9) today recognized two students, one from Strath Haven Middle School and one from Strath Haven High School, located in Wallingford, Delaware County, for their efforts to prevent bullying in schools.
Killion commended Jessica Yohey and Izabella Cipresso for organizing an anti-bullying walk at their school in September, which helped increase awareness of the prevalence of bullying on children of all ages. The students were joined in the Senate gallery by their parents, families and friends.
"I'm very proud that these young people worked so hard to organize this event, and in doing so helped to educate people about serious bullying is and how devastating it can be for victims," Killion said. "Bullying can be prevented, especially when the power of a community is brought to bear. I'm pleased that Jessica and Izabella are leading community outreach efforts that will help identify and support children who are bullied and change the attitudes of adults and youth who tolerate bullying behaviors in peer groups, schools, and communities."
As part of that effort, Killion offered a resolution designating the month of October 2016 as Bullying Prevention Awareness Month in Pennsylvania. He said the goal is to encourage communities to work together to stop bullying and cyberbullying by increasing awareness of the prevalence and impact of bullying on children of all ages.
According to statistics compiled by the Department of Education, bullying affects 28 percent of students in grades 6 to 12 and 20 percent of students in grades 9 to 12.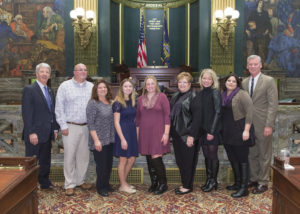 CONTACT: Krista Hair, Office of Sen. Killion (717) 787-4712