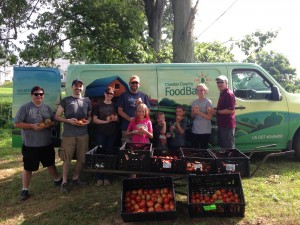 Senator Tom Killion (R-9), members of his staff, and area residents volunteered their time this past weekend to help a local food bank that serves the community.
Killion said the volunteer outing took place at Pete's Produce Farm where the group helped to harvest more than 1,000 pounds of tomatoes for the Chester County Food Bank.
"The Chester County Food Bank helps to stock the shelves of more than 35 food cupboards and 61 meal sites, and is seeing a rise in the number of people that need assistance," Killion said.  "It is a great organization that provides a vital service, and I hope folks will support that effort.
The Chester County Food Bank is a non-profit organization that collects, grows, purchases, processes, stores and distributes food to those who serve the hungry of Chester County, Pennsylvania.   It distributes more than 2 million pounds of food per year to over 120 organizations that include food cupboards, meal sites and other social service non-profit organizations.
CONTACT: Mike Stoll (717) 787-4712